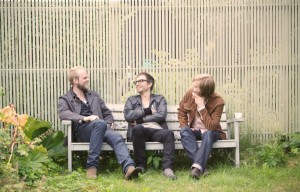 Brothers of End are Mattias Areskog, Bengt Lagerberg and Lars-Olof Johansson Ståle.
We have known each other since we were about 15, when we grew up in the town of Jönköping and taught each other how to play music.
Since then Lasse and Bengt have been playing with The Cardigans, while Mattias have been working as a journalist and playing with swedish artists such as Consequences, Marit Bergman, Friska Viljor and Anna Ternheim.
Two years ago our ways crossed again, on the back stage camp of the Swedish festival "Storsjöyran", after a show with The Cardigans. We decided to start something new, and by all means try to redifine what we thought music should be all about.
In october we released our debut album, "The End", in Scandinavia and during the spring it will be released in France, Germany, Netherlands, Belgium, Austria & Switzerland.
Lasse calls it a "kick-ass-slow-drive-pop-album", but go to our shop if you want to find out for yourself. if you would like to see how other people have have described our music, please go to Press & Reviews.
Enjoy!
/Bengt, Lasse & Mattias